Which enterprise platforms does Accenture hold a partnership with? 
Accenture is one of the leading professional service providers that deal with technology and consulting, offering services to numerous clients across the world. There are various enterprise platform firms that Accenture holds partnerships with including SAP, Salesforce, Oracle, Google, etc. The partnerships help Accenture to ensure that it is able to acquire greater knowledge and technology from these firms. Additionally, it also focuses on improving its client's business operations and achieving digital transformation goals. With the following blog, you will become aware of which enterprise platform businesses Accenture holds partnerships.
Which of these enterprise platform businesses does Accenture hold a partnership with Google and Bing SAP and Salesforce?
Salesforce
Salesforce is a cloud-based CRM technology firm that provides customer relationship software and applications focusing on sales, customer service and, marketing automation, e-commerce, and application development. Evidently, the strategic partnership of Salesforce with Accenture enables organizations to streamline their marketing processes and customer relationships.
Google
The strategic partnership of Accenture with Google is focused on accessing Google's Cloud technology which gives access to its client's expertise and technology. Consequently, with Google's cloud computing, AI, and Machine Learning technologies, digital transformation for Accenture is possible. Certainly, the partnership will focus on areas including helping clients in moving their IT infrastructure and applications to the cloud.
SAP
One of the most effective partnerships of Accenture comes with SAP, a German multinational software company that develops enterprise software for managing business operations and Customer Relations. Moreover, the strategic collaboration with Accenture allows SAP to ensure that it is able to provide its highly efficient enterprise resource planning software to the company. Furthermore, enabling its consulting services to SAP may assist Accenture in implementing solutions and enhancing its business operations.
Does Accenture hold a partnership with myConcerto?
myConcerto is one of the most efficient partners of Accenture which is focused on bringing thought leadership, innovation, and expertise from the industry to the company. The main purpose of the partnership is to bring all these attributes to one platform simplifying and accelerating technology-based transformation in business. Effectively, myConcerto focused on being people-centric, expanding the workforce's potential with user-friendly tools that unlock value.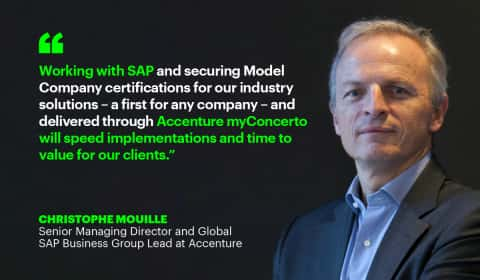 Conclusion
Thus, Accenture has been able to withhold strong and meaningful partnerships in the international market. Certainly, it has been allowing the company to access technologies faster. Moreover, its collaborations have helped to ensure that customer relations and marketing and sales operations are able to grow with higher efficiency. The strategic partnerships allow Accenture to achieve its digital transformation goals and enhance business operations effectively.
Read Blog: How does Facebook use Big Data?
FAQs
What is an example of an experience component within an enterprise platform?
An enterprise platform is a firm that uses a definite system for enabling customer payment processes. For instance, a mobile application is a common example that stands as an experiential component in an enterprise platform. It allows customers to make their payments seamlessly using a mobile app.
Does Accenture hold a partnership with Salesforce Enterprise Platform Businesses?
Yes, Accenture has a partnership with Salesforce that allows the companies to streamline their sales and marketing processes and customer relations. Effectively, it is done mainly using their CRM software and applications.